Approximately 5,6 Trillion cigarettes were smoked every year and about 4,5 cigarette butts will hit the ground. A solution for this comes from an industrial designer named Ben Forman. He is working for IDEO in London.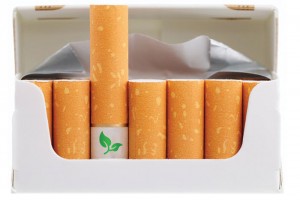 He has developed cigarettes with butts containing seeds. These seeds will grow a small plant after throwing the cigarette butt on the ground. Containing a small wild flower seed the littering could turn into a prettify process. The filters are biodegradable and they look like normal cigarette filters.
It's a nice idea and it will help to keep parks, playgrounds and streets a bit cleaner but hopefully not everybody will start throwing their cigarettes on the ground because these are now biodegradable.
Click designs-on.com for more information
---
Image by: designs-on.com