Over the years approximately 40% of natures coral reefs got destroyed or got lost in the last few decades. To grow new coral reefs the Cancun based Jason deCaires Taylor created sculptures and sink them at different spots in the ocean.In 2009 Jason deCaires Taylor started with the project and in 2011 the first 400 statues have been sink to the seabed off the Mexican resort of Cancun. Next to the Isla Mujeres which is really close to the shore of Cancun and near Grenada which is located on the south tip of the Caribbean Islands Jason deCaires Taylor started to install the sculptures.
Nature takes over
That was the start for the nature. Corals start to grow on the statues and fish colonize the area around it. A new colorful and diverse scenery is now growing a few meters underneath the water surface. Every sculpture gets conquered by the corals and they create beautiful and artistic shapes and patterns on the sculptures. Each sculpture has a different name and meaning. For example there is the banker which is 6m underneath the surface and it shows a group of 5 sculptures which are digging their heads into the sand.
Corals create new unreal looking shapes on the sculptures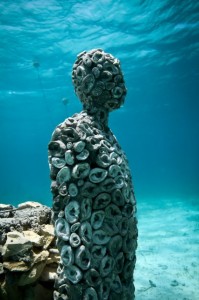 The process of building theses statues and encourage the growth of corals on them is not that easy. A mixture of grade cement, sand and micro-silica is required to make pH-neutral concrete. In an interview with greenglobaltravel.com he got asked how many sculptures will follow the others. The answer was that they have permission to sink about 10,000 sculptures and he wants to create different rooms like in a real museum just only under water.
See more of these incredible looking sculptures:
The whole project shows how art and environment can go hand in hand and both are having a big benefit out of it. The corals and marina life have a new habitat for their own and divers can explore these new spots with a unique scenery
Check these sources for more information:
Facebook (Jason deCaires Taylor)
---
Images by: Jason deCaires Taylor – underwatersculptures.com